Welcome to Our Web Site!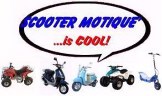 We provide warranty, parts and service support for all the products we sell!


Scooter Motique is updating our website with All New Updated Products for 2011!

For Dealer Opportunities, Parts and Product Info Requests E-mail us at

Copyright 2011, Pique Motorsport, Scooter Motique, All rights reserved.
All other product and company names are the properties of their respective owner.