All Pro ATV's
Jump to your choice by clicking on your ATV link below...

50cc Youth ATV - B
COMING SOON!!

50cc Youth ATV - C
COMING SOON!!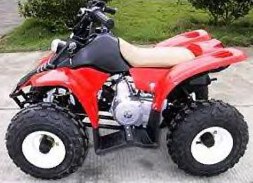 Specs:
Engine: 50CC Air Cooled 4-Stroke (no need to mix oil and gas)
Max Torque (N/M/rpm): 3.0/5000
Ignition 12v CDI
Start: Electric with a set of keys
Transmission: Semi-automatic / No Hand Clutch
Dimensions: 44" X 24" X 29"
Seat Height: 22.4"
Weight: 156.2 LBS
Tires: 14.5 x 7 - 6
Brakes: Rear Drum
Suspension: Rear Mono Shock
Fuel Capacity: 4.5L
Very, Very Quiet - 35 dB
Warranty: 6 Months for Parts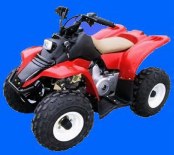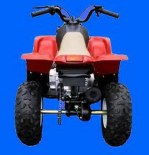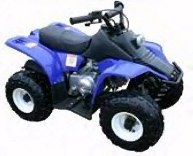 Colors Available Red, Blue, Yellow, Green
Safety Features Kill switch, speed restrictor, headlight
Speed Restrictor (Governor):
You can adjust this down to 5 MPH while your child is learning to ride the ATV. Extra large brake for fast stopping.
Easy to use auto kill switch,
Emergency Engine Cut Off rear control. Attach a cord to the auto cutoff attachment and walk behind the child while riding. Pull the cord to cut of the engine in case of emergency.
Retail $999.00 plus shipping
OUR BEST PRICE: $789 FREE SHIPPING!
Buy It Now! Use your Credit Card With...


Copyright 2007, Pique Motorsport, Scooter Motique, All rights reserved.
All other product and company names are the properties of their respective owner.