NEW 43CC SNOW SCOOTER
Direct Order Page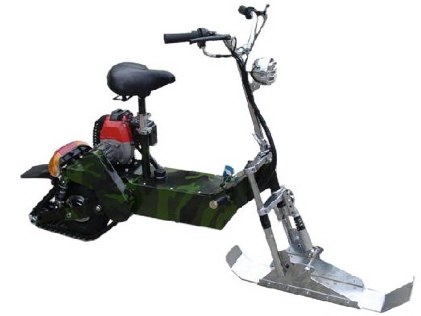 This is the gift for the season! They are flying out of our warehouses and showrooms faster then we can restock!
YOU WILL SEE THESE SCOOTERS WITH A MSRP OF $999 to $1199!
Brand New to the USA! Your Mini Snowmobile! What an experience... sledding along like the big boys without the big expense of a full size snowmobile! Portable too! Folds for easy transport!
Your Snow Scooter has a hard Rubber tread and steers just like a snowmobile. Speeds in excess of 20mph are attainable on good snow!
BONUS - INCLUDED FREE!
A wheel conversion kit makes this scooter ready for all four seasons, included FREE!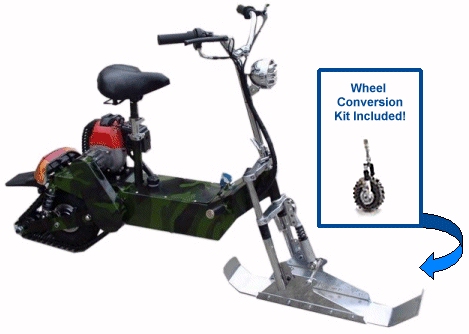 Get your before the Snow Season rush hits and prices go up. These Snow Scooters are BRAND NEW in the USA and are in great demand and becoming hard to find…at a reasonable price.
NOTE: THESE ARE IN OUR WAREHOUSE AND READY TO SHIP IMMEDIATELY!!!
SPECS:
43cc Air-cooled 2 Stroke Engine
High Performance Exhaust System
Weight: 52lbs
Scooter Folds for Storage and Seat detaches with Pin
Seat Height: Adjusts from Youth to Adult
Start: Electric Start; Pull Cord backup
Suspension: Front and Rear; Rear Swing-arm style, Single front shock
Tank: 1.25L
Speed: 17 to 20 MPH
Range: 30 Miles
Tires: 9" Rear Tire, 9" Wide Hard Rubberized Track
Head light and Tail light.
F&R Brakes
Throttle control
Conversion to standard two-wheel Scooter (included)
Brand New / Warranty Available / Parts and Service Readily Available!!
Click here to order your Snow Scooter! Includes Shipping!

If you have a question... call us Toll Free at 631-375-4046
We have been in the Scooter business for over 10 years!
Buy a brand new, quality scooter direct from the distributor...
Shipping:
PayPal offer above includes shipping. Delivery to your residential address available. Shipped by preferred ground carriers, fully insured.
Copyright 2004, Pique Motorsport, PMI Values, Scooter Motique, All rights reserved.
All other product and company names are the properties of their respective owners